Listen to me:
pioneering hearing care in Chad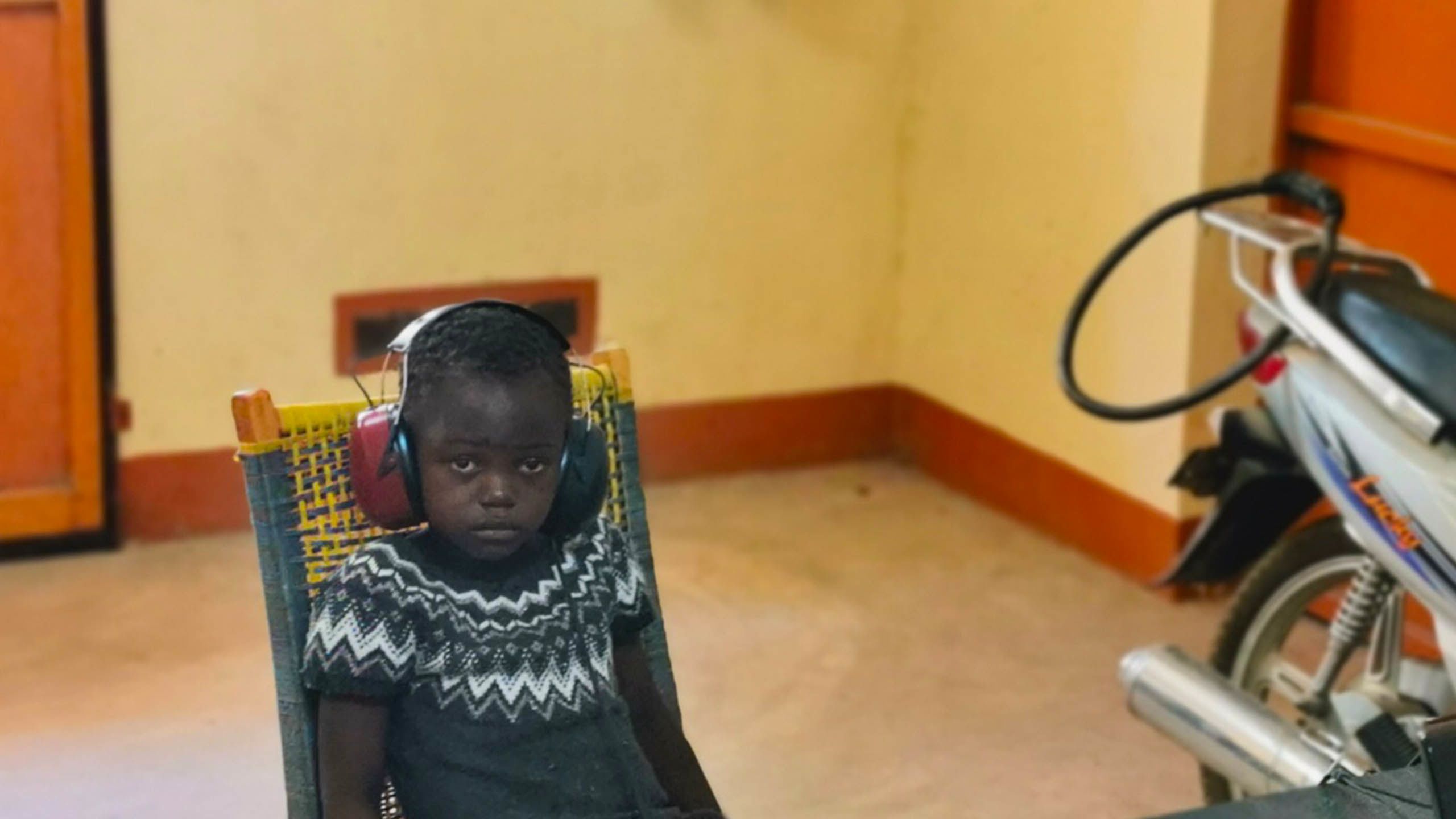 Non-profit organisation Écoute-moi! is introducing audiological care in Chad, changing the lives of dozens of children with hearing loss who otherwise would not have access to any support. Funded by the Hear the World Foundation, the project is an example of how corporate philanthropy can enable companies to have a far-reaching positive impact in their field.
"We just landed – it's 43 degrees." The Swiss team of Écoute-moi!, a non-profit organisation that provides audiological care in Chad, just arrived in the capital city of N'Djamena.
In the landlocked African country of Chad, where 10m people live in poverty according to the UN World Food Programme, audiological care is virtually nonexistent. As in many developing countries, hearing loss is much more common in Chad than in Europe, but there are very few ear, nose and throat (ENT) doctors in the country.
Ben von Gunten, an electronics engineer at the ENT department of the University Hospital in Bern, started Écoute-moi! ('listen to me') after he visited the Chadian Evangelical school for children with hearing loss (EETS) in N'Djamena in 2019. He had worked with people with hearing loss in Cameroon between 2011 and 2013, but he had to leave the country after unrest started, and he wanted to continue to help Africans to overcome the obstacles to good hearing.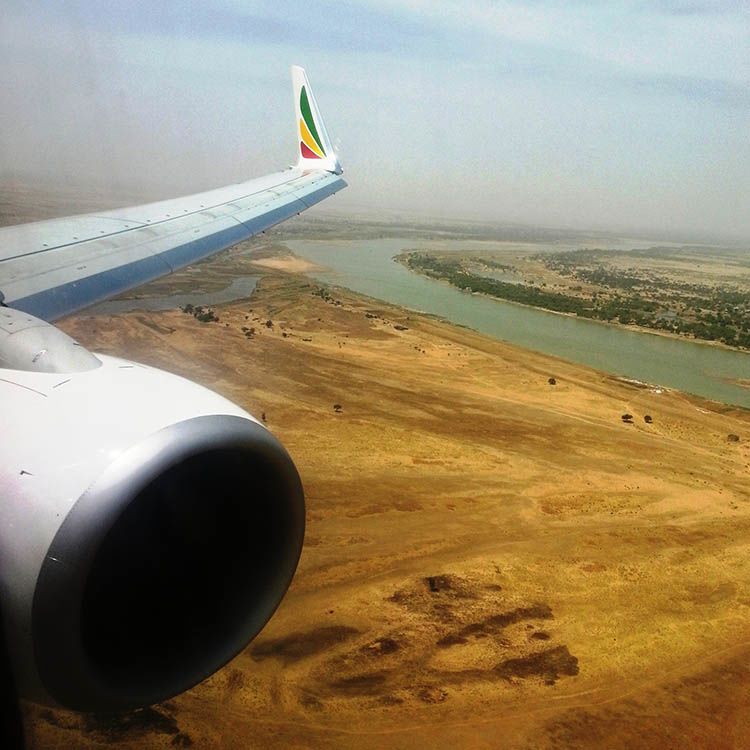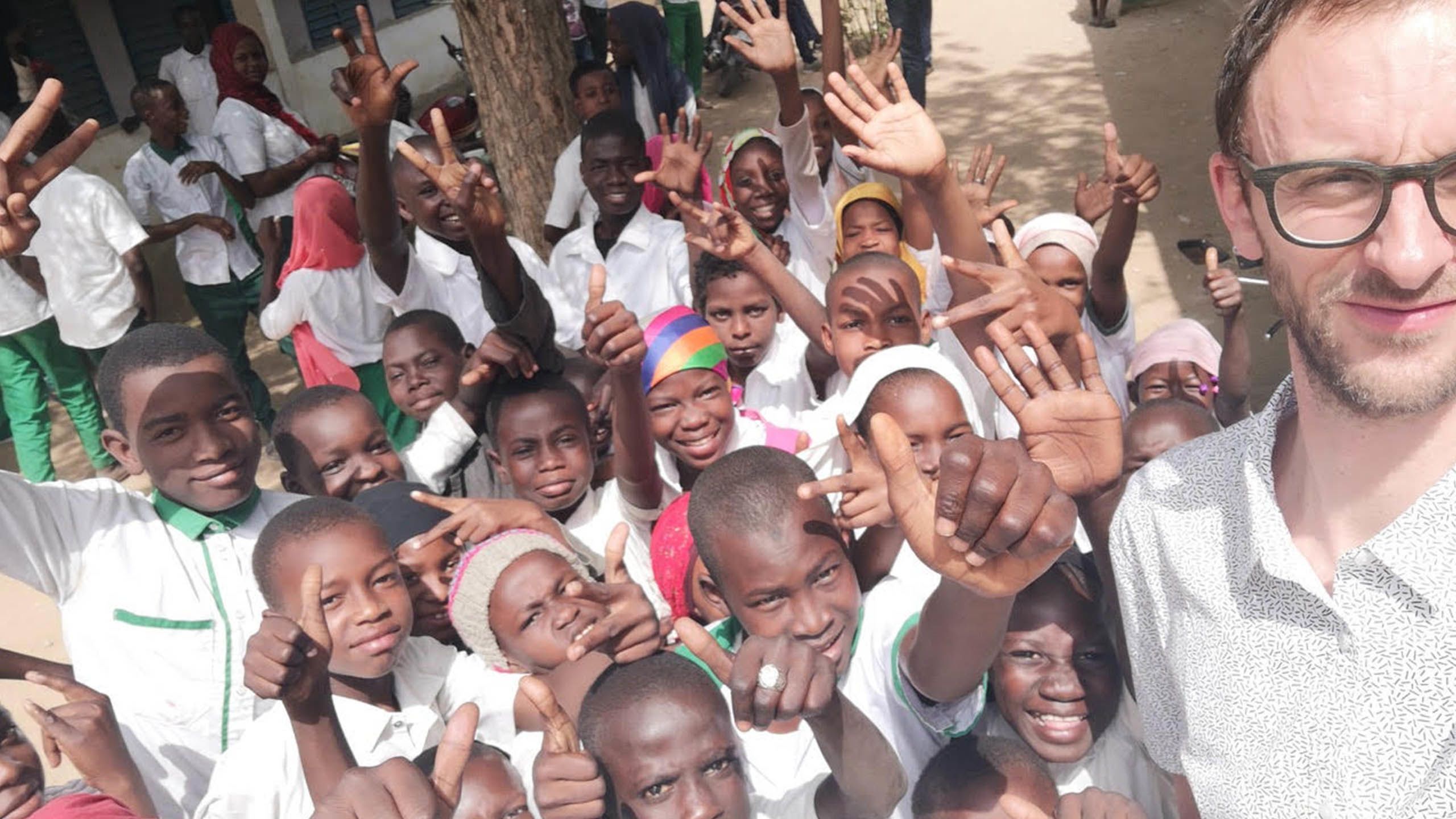 "We exploited Africa for 300 years or so. This is our opportunity to give something back," says Von Gunten. "We have so much wealth in Europe. It's time for us to share." 
Up to now, young people with hearing loss rarely received any specialist care in Chad. The lack of screening for hearing loss in babies means many miss out on what could be life-changing surgery, and many others lose their hearing later in life, often due to untreated ear infections. As a result, most of them do not learn how to speak, they struggle with education and have reduced employment opportunities later on.
Funded by the Hear the World Foundation, Écoute-moi! provides free audiological care to children, including fitting them with hearing aids. The organisation's strategy is to train a local team in Chad which can work on the ground autonomously, therefore having a triple impact: helping young people with hearing loss, providing training opportunities and creating skilled jobs for the local community.
The organisation has trained four local audiological care technicians – the first ones in the country: Denise Nehoudou, Fulbert Koularambaye, Davy Takendjilembaye and Juste Clément, who is also the project coordinator in Chad. In collaboration with EETS, they conduct audiogrammes to assess children's hearing loss levels, fit them with hearing aids and support them onwards with speech therapy. While EETS is their main target, they also work in other schools, in N'Djamena and further afield.
It's the first time Von Gunten, together with audiologists Martin Krebs and Rita Käslin, are back since the beginning of the pandemic. But the local technicians have been busy throughout the year: they have conducted more than 100 audiogrammes and fitted more than 50 children with hearing aids.
"We didn't expect so much demand," says Clément. "We have to turn down patients because we are becoming overwhelmed. We have to focus on our main target – the EETS school… a lot of schools want to benefit [from our services]." 
Before Écoute-moi! started operating, hearing aids in Chad were the privilege of the wealthy, who could send their children abroad to be equipped with hearing devices. Speech therapy was virtually unknown in the country. 
Von Gunten, Krebs and Käslin have to remain in their hotel and nearby office for their first week in Chad due to Covid-19 quarantine rules. During this time, they will train the Chad team to use new software to monitor hearing aid usage, and how to fit a new type of earmould (the part of the hearing aid that sits inside the ear).
Takendjilembaye, who joined the Chad team recently after a short training in Abidjan, says meeting the Swiss team is a great opportunity. "Martin for example has more than 30 years' experience. He's like a library for me. I'm very proud to work with the Swiss team… we work together, hand in hand, to improve audiological care in Chad."
Each member of the team has specialised training areas, which means that in turn, they will be able to train others. 
"We always need Écoute-moi! Switzerland's visits, to monitor quality," says Clément. "Even if the services we provide are free – we are all volunteers – we always need all the experts of Écoute-moi! Switzerland to go forward."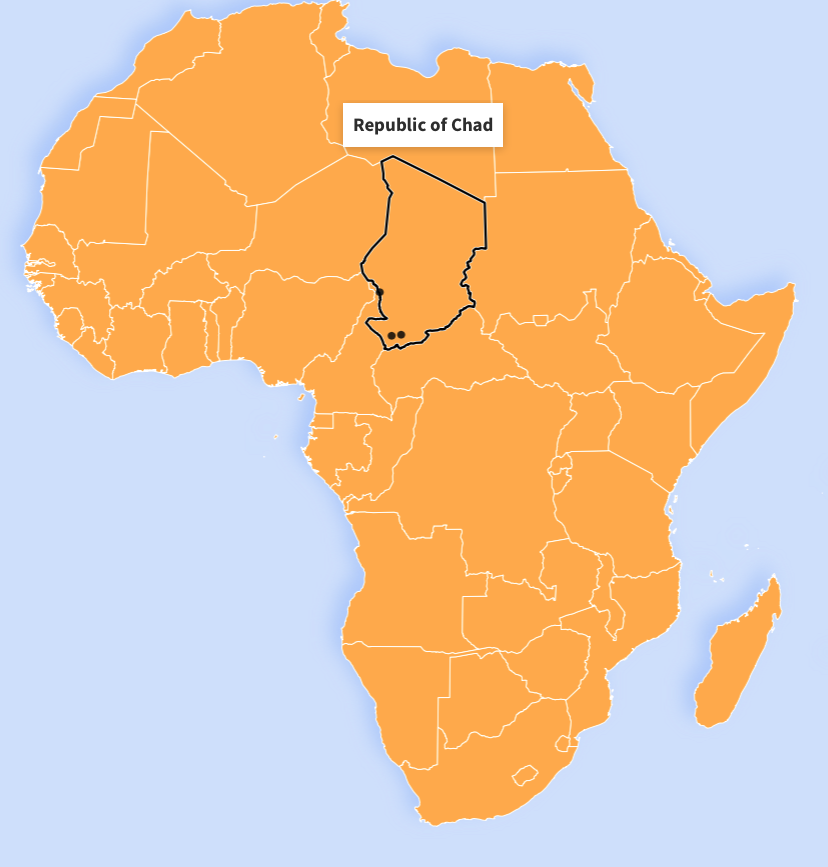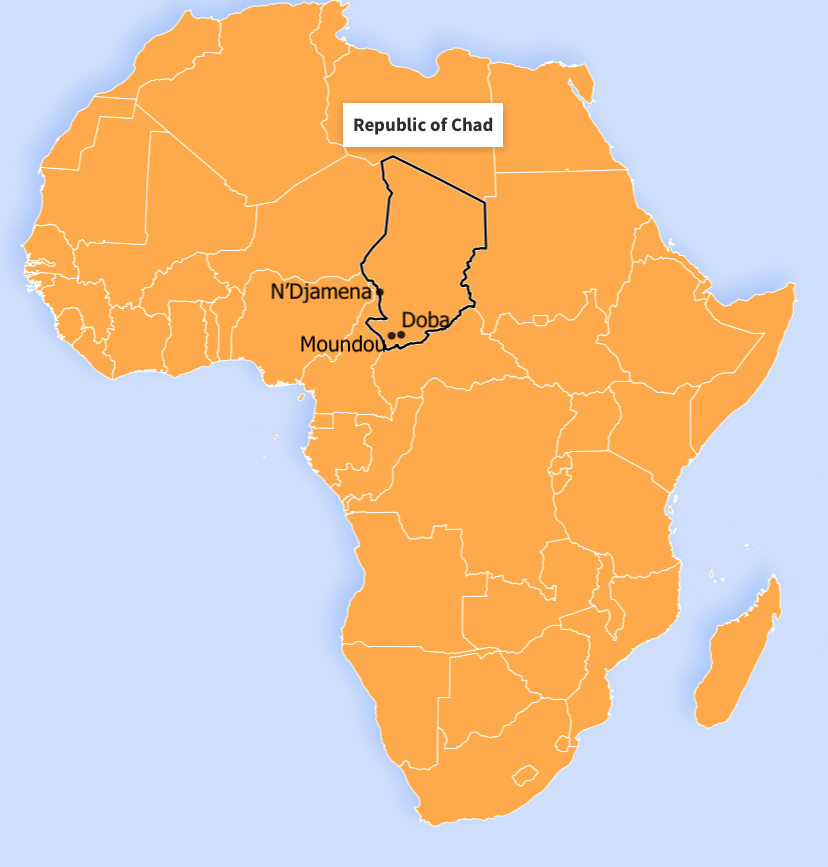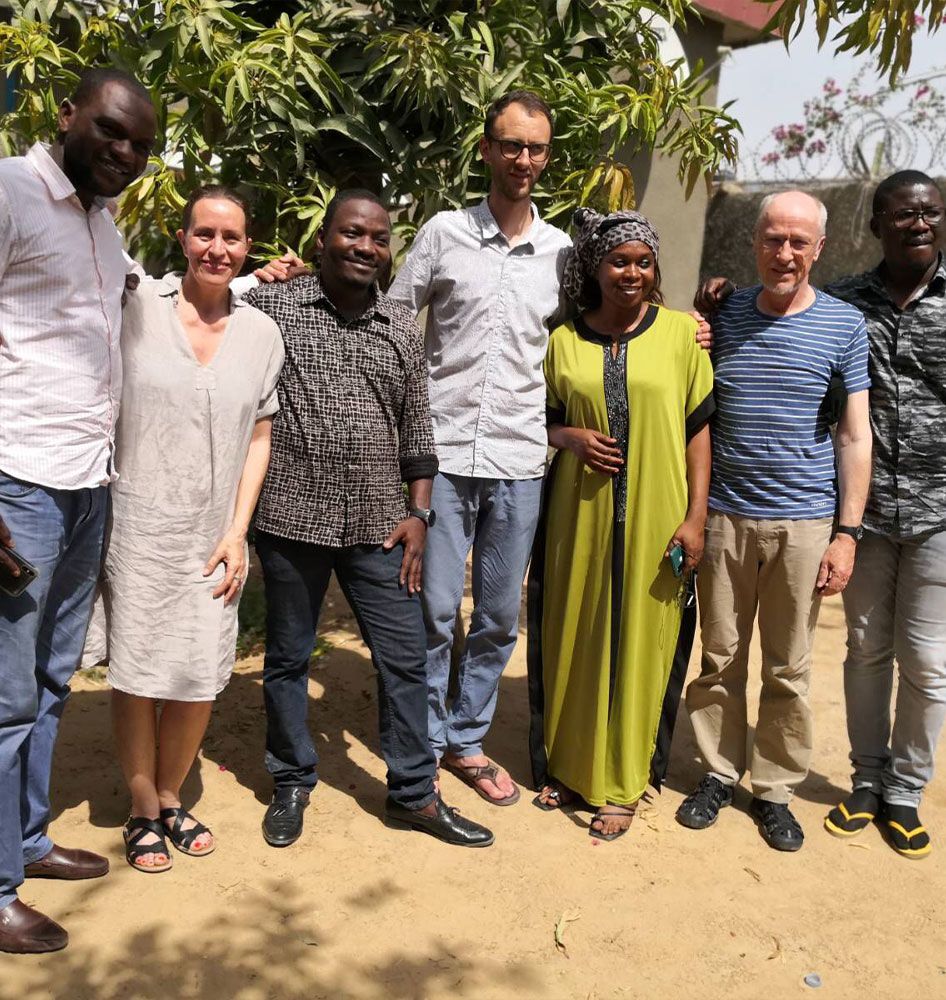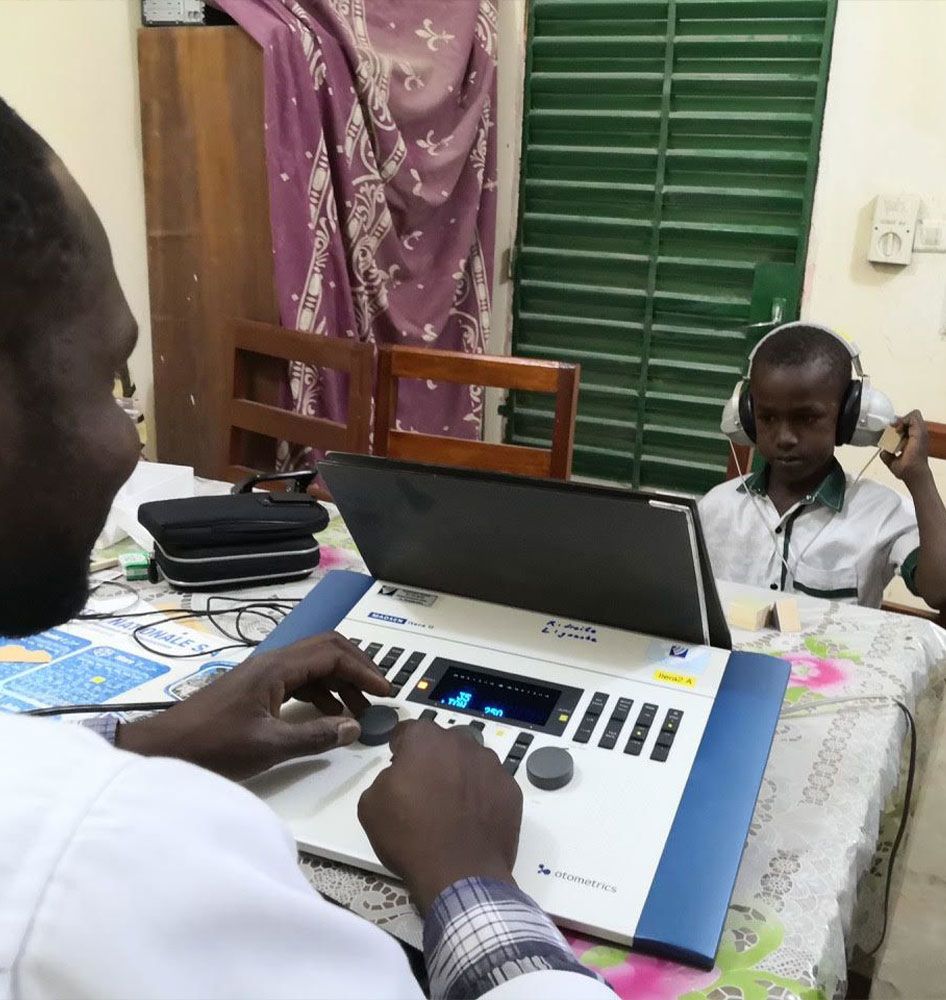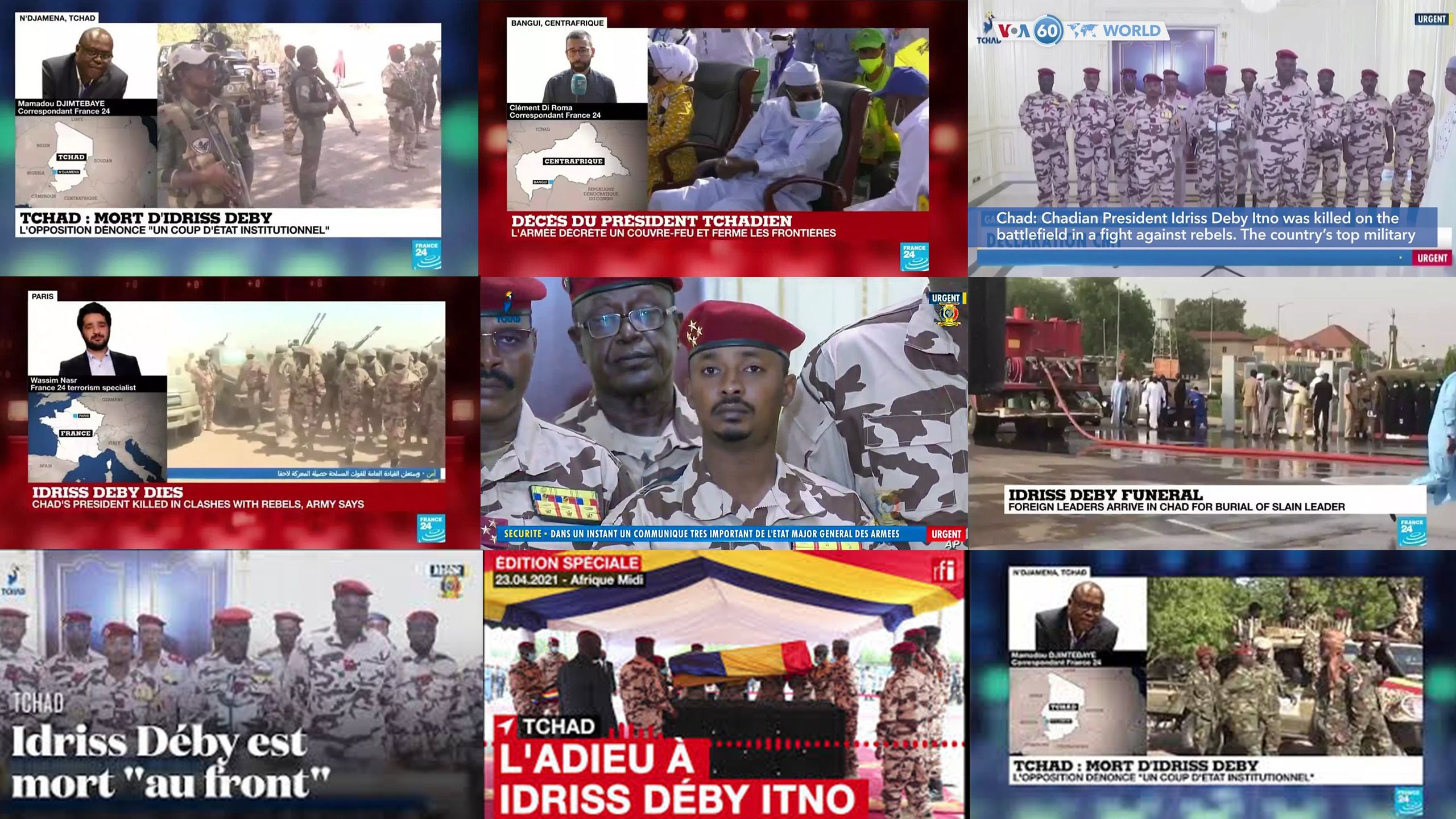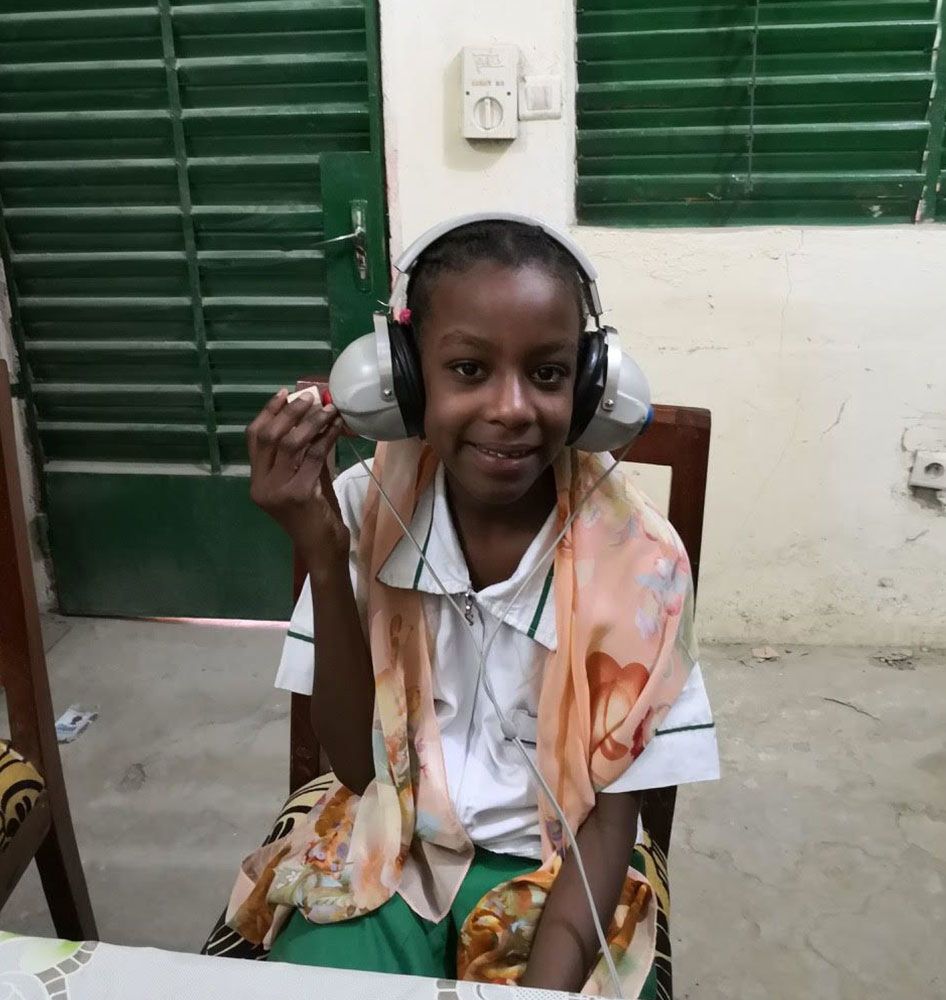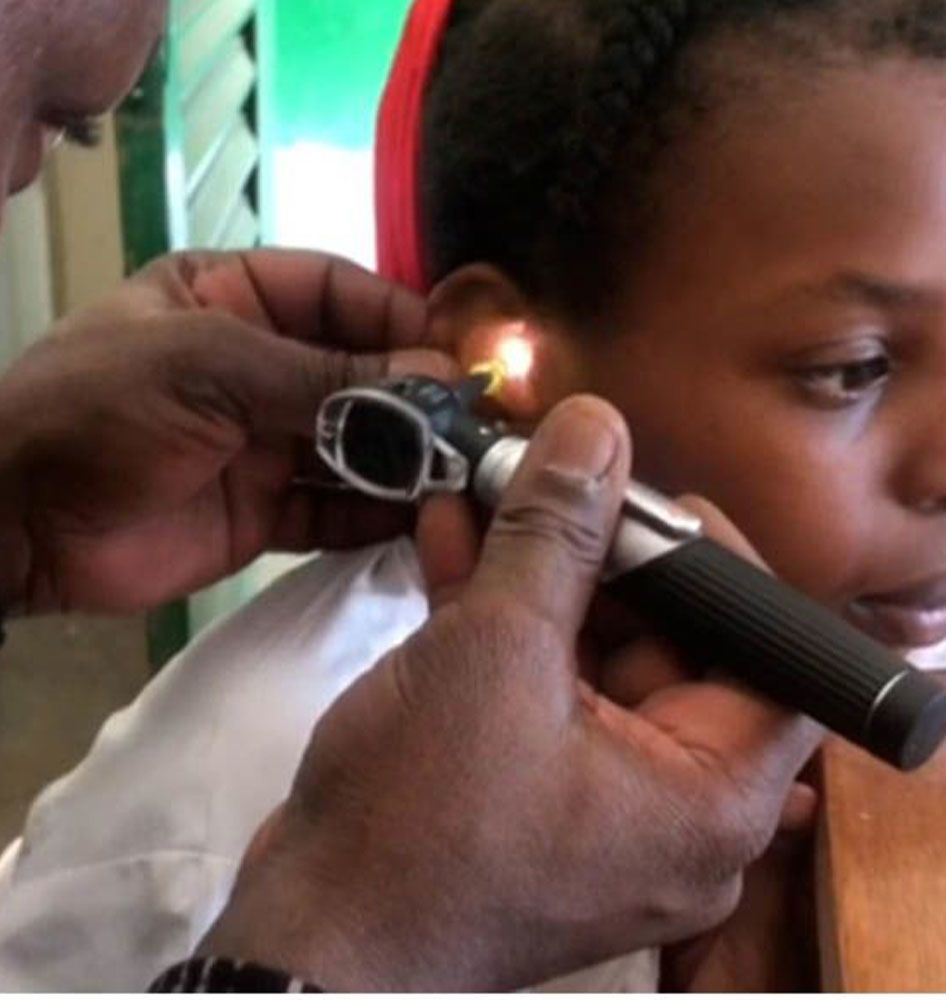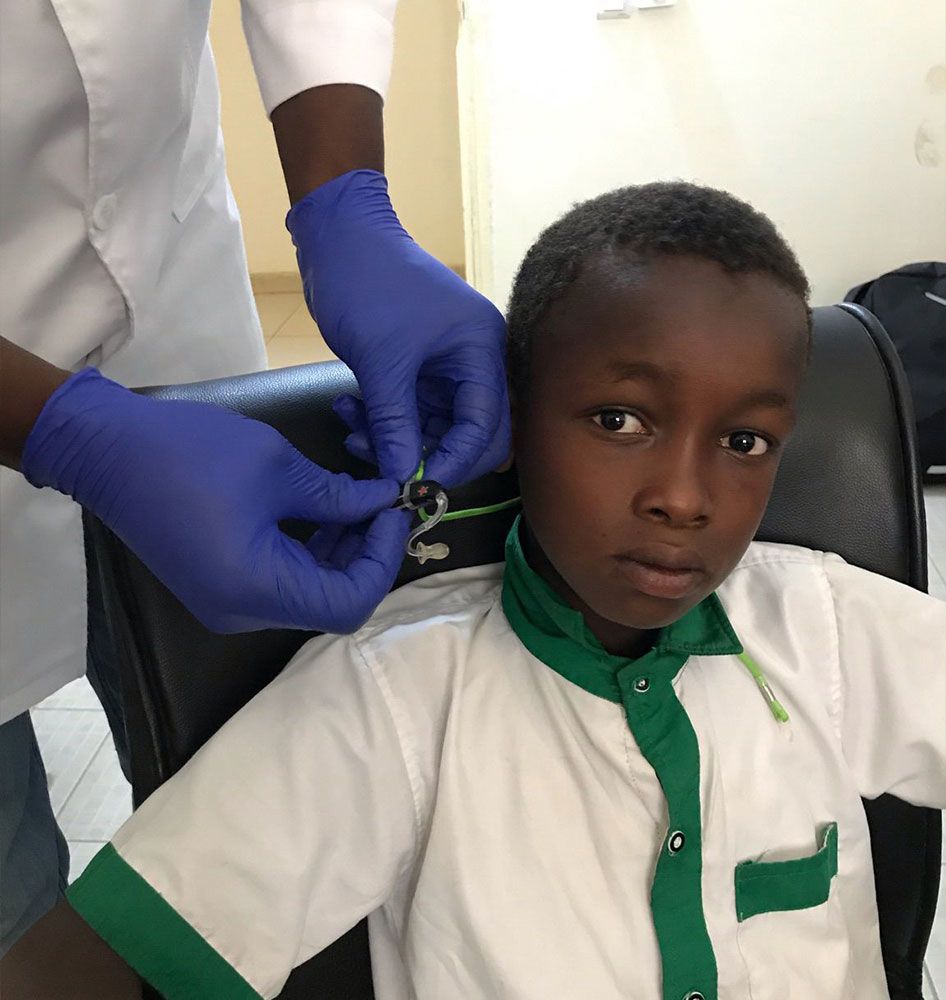 Change in plans: on 20 April, the news that Chad's president Idriss Déby died following clashes with rebels is sending shockwaves through the country. Fears of unrest lead several Western governments to order their citizens to leave, and schools close. The Swiss team will have to go back, unable to meet the pupils of EETS this time.
But one big advantage of having a qualified permanent team on the ground is that the work can resume as soon as the situation calms down: just over a week later, Clément, Koularambaye, Takendjilembaye and Nehoudou are back at EETS with the children.
The team sees them about once a week to help with routine maintenance of the hearing aids, changing batteries and data logging to monitor device usage. Each child who has been fitted with a hearing aid undergoes an audiogramme every three months to assess progress. During an audiogramme, the child wears headphones that play sounds at various frequencies. The child makes a sign when they hear a noise, allowing the technician to assess how much they can or cannot hear.
A major part of follow-up work is speech therapy. After children are fitted with hearing aids, they first have to learn to listen again, and recognise different noises. The next step is to remember and say everyday words.
"Hearing aids work very well," says Clément. "Some children who spoke little or not at all now don't even realise their voice is coming out, it's become natural. But that's not for all of them."
The biggest part of the work must happen at home. "The parents don't always have the time, but they have the most important role. We only have 20 or 30 minutes with the child," says Clément. "It's not automatic, it's not a medicine. The child is not going to start speaking straightaway. First the child needs to learn to listen, and speech comes afterwards," he adds. 
Not all children have the same needs: those who lost their hearing at an advanced age used to speak normally beforehand, so they need to recover their speech; those born with hearing loss have never spoken and they have to start from scratch.
Chadians usually speak at least three languages – typically French or Arabic at school, local Arabic on the street, and one of the country's 150 dialects at home. For children with hearing loss who learn to speak again, it can actually make things easier: if they can't remember a word in French, they may be able to remember it in their dialect or vice versa.
Awati, 11, is one of the first to be fitted with the new earmoulds introduced by the Swiss team. So far, Écoute-moi! has been fitting children with standard ear moulds, which are not made to fit and can be uncomfortable. They often slip because of the sweat, or the filter swells when in contact with water, for example when children – many of whom are muslim – do ablutions.
"We can see all this when we do maintenance. Sometimes children hurt themselves because they try to push it too far," says Clement. "What we needed was a mould that's made to fit the ear so they can be comfortable. The new ones stay in the ear, even if you tilt your head. They fill the whole of the ear canal and come quite close to the eardrum, and it's soft, so you can't feel it." It only takes 40 minutes to make them.
Throughout the past year, the local team has been working with children at EETS and in other schools, including in the cities of Moundou and nearby Doba, about 450km south of N'Djamena. Each city has at least one school for children with hearing loss, but they lack facilities. Discoloured signs and cracked walls contrast with the relatively modern equipment used by the team. They don't have a soundproof room to conduct audiogrammes, which have to take place in classrooms. 
The team would like to reach schools elsewhere in the country but it doesn't have the capacity to do so yet. There's a big demand for Écoute-moi! services – including from adults – but no matter what, they cannot neglect the EETS school. 
"In the long term, we would like to have a state-of-the-art acoustic centre, in N'Djamena, here in Chad," says Clément. "With all the technical staff, administrative staff, and, why not, as many branches as possible, so we can give a better life to people with hearing loss."
From Hear the World to
Écoute-moi!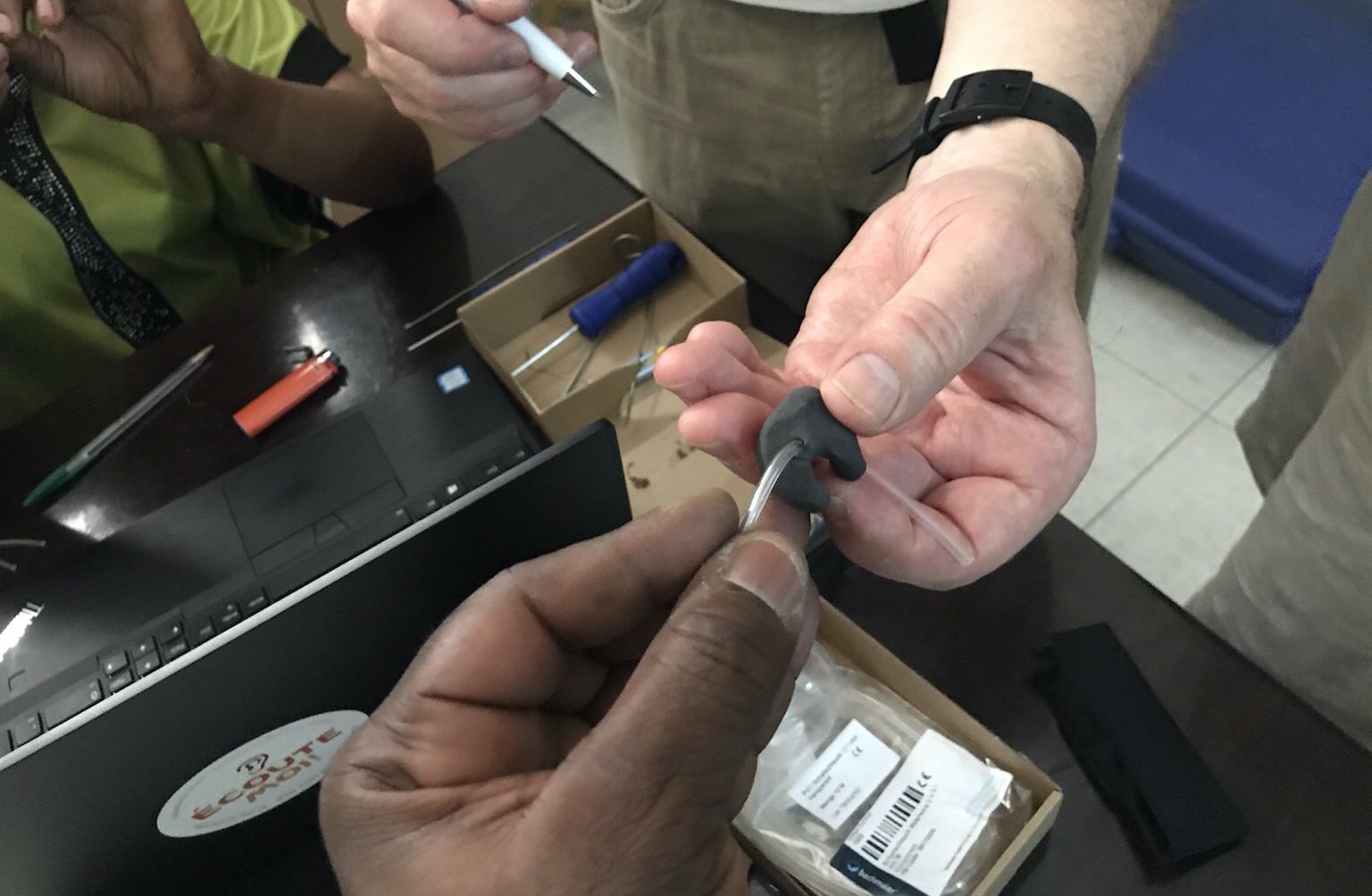 Hearing aid manufacturer Sonova founded the Hear the World Foundation in 2006. The philanthropic foundation supports aid projects to improve the lives of children with hearing loss in low- and middle-income countries by giving them access to audiological care and hearing technology.
Nearly 450 million people suffer from hearing loss around the world, 34 million of whom are children, according to the foundation. 80% of people with hearing loss live in developing countries and have limited access to audiological care, like in Chad.
The foundation's strategy is to engage with local stakeholders to create lasting solutions – Écoute-moi! is doing such work by training audiological technicians and building know-how locally.  
"Our engagement in Chad matters because we give the children of Chad access to hearing care," says Carole Witmer, programme manager at Hear the World. Without the engagement of Écoute-moi! and Hear the World Foundation, there would be no audiological care in Chad. This brings us one step further in our vision of a world where every person has the chance to experience good hearing."
Industry alignment
Hear the World Foundation's mission of improving hearing care for young people in low-income countries is aligned with the sector in which its related company, Sonova, operates: the hearing aid industry. This gives an advantage to the foundation, which is able to leverage the company's expertise and assets around audiological care to increase its impact.
Being related to a company that produces hearing aids, the foundation can not only help NGOs through financial support, but also involve corporate volunteers to share their expertise, explains Karoline Heitmann, corporate initiative manager at EVPA, which supports and conducts research on this kind of strategic alignment between corporates and philanthropic foundations.
In the case of Écoute-moi!, the foundation provided hearing devices from Sonova's range of products and audiological equipment to the NGO to properly support children that are suffering from hearing loss.
Hear the World is a corporate foundation that operates separately from its related company.
In 2019, EVPA published research on Social Impact through Strategic Alignment outlining how corporate social investors (such as corporate foundations, impact funds and social businesses) can align with their related company to enhance their social impact. Get in touch with EVPA's Corporate Initiative for guidance on this and other corporate social investing topics by contacting Sophie Faujour.
Behind the scenes: reporting on Chad in 2021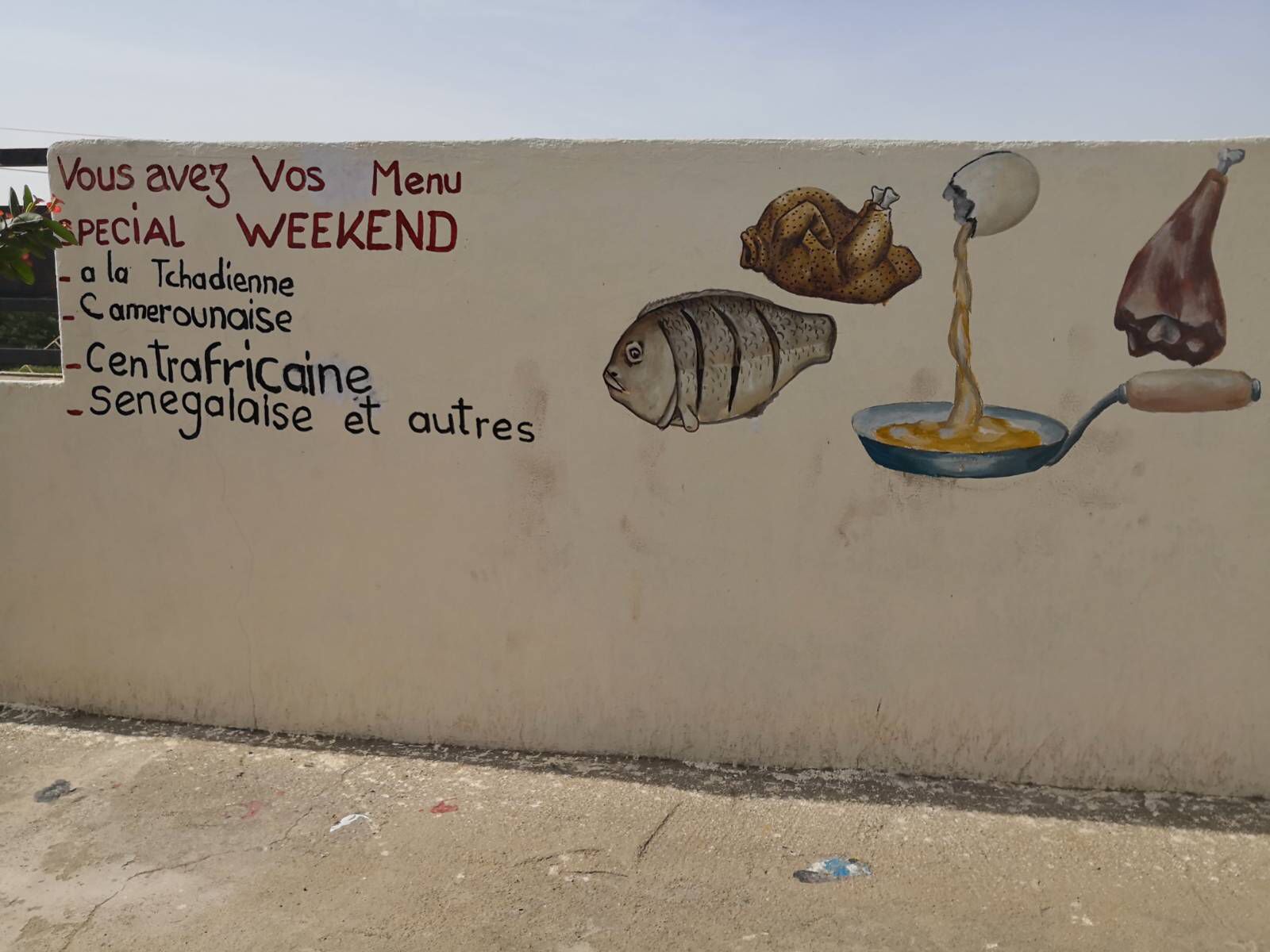 How to do international journalism during Covid-19? Sending a reporter on a plane to another continent is a lot harder than it used to be, says Pioneers Post reporter Laura Joffre. 
When Pioneers Post learned that the Swiss members of Écoute-moi! were about to travel to Chad, we thought they – and their mobile phones – could be our eyes and ears on the ground. The plan was to stay in touch with them throughout their time there, so we would create a day-by-day account of their adventures, like a digital diary. 
We set up a Signal group chat to share regular updates, voice messages, photos and videos. It started great: Ben was keen to help, took lots of photos and sent videos to introduce all the members of the team one by one, who happily played the game. In a call at lunchtime, Ben introduced me to Juste, the coordinator, who explained in plenty of detail what they were doing – including what they were having for lunch – to make it feel as if I was there myself as much as possible. In N'Djamena, internet connection is surprisingly stable, as long as one can afford the data on their mobile.
But after about a week, I receive a message: "Look at the news." Seconds later, the notifications pop up on my phone – Reuters, Le Monde, BBC: Chad's president for 30 years has died in a clash with rebels. For context: Chad is surrounded by countries at war. Jihadist groups in the Sahel in the North of the country are threatening to disrupt what is an autocratic yet stable country; and France has 5,000 troops there supporting the government. There's a lot at stake.
The Swiss members of the team are required to stay in their hotel until further developments. For a while it sounds promising – it looks like a consensus has been found at the head of the country, with the late president's son put in charge until elections are held. But protests start erupting. Some European countries call their citizens back; Ben, Rita and Martin reluctantly decide to leave.
They will miss out on the most exciting and meaningful bit of the trip: meeting the children. But in Chad, Juste and Davy – who is the latest addition to the team and a keen photographer and videographer – are happy to take over our distance-reporting experiment as soon as the situation stabilises. 
The team's back at the school and they tell me all about it. They're tech savvy and understand what I ask them to film or photograph really well, and the children are incredibly patient and cooperative. The result is this feature: it started with a group chat, and it ended with a group effort.
Many thanks to the Écoute-moi! team, in Chad and in Switzerland.
Image and video credits: Ben von Gunten, Juste Clément, and Davy Takendjilembaye
Music credits: https://www.bensound.com
Words: Laura Joffre
Design: Sasha Gallick / Fanny Blanquier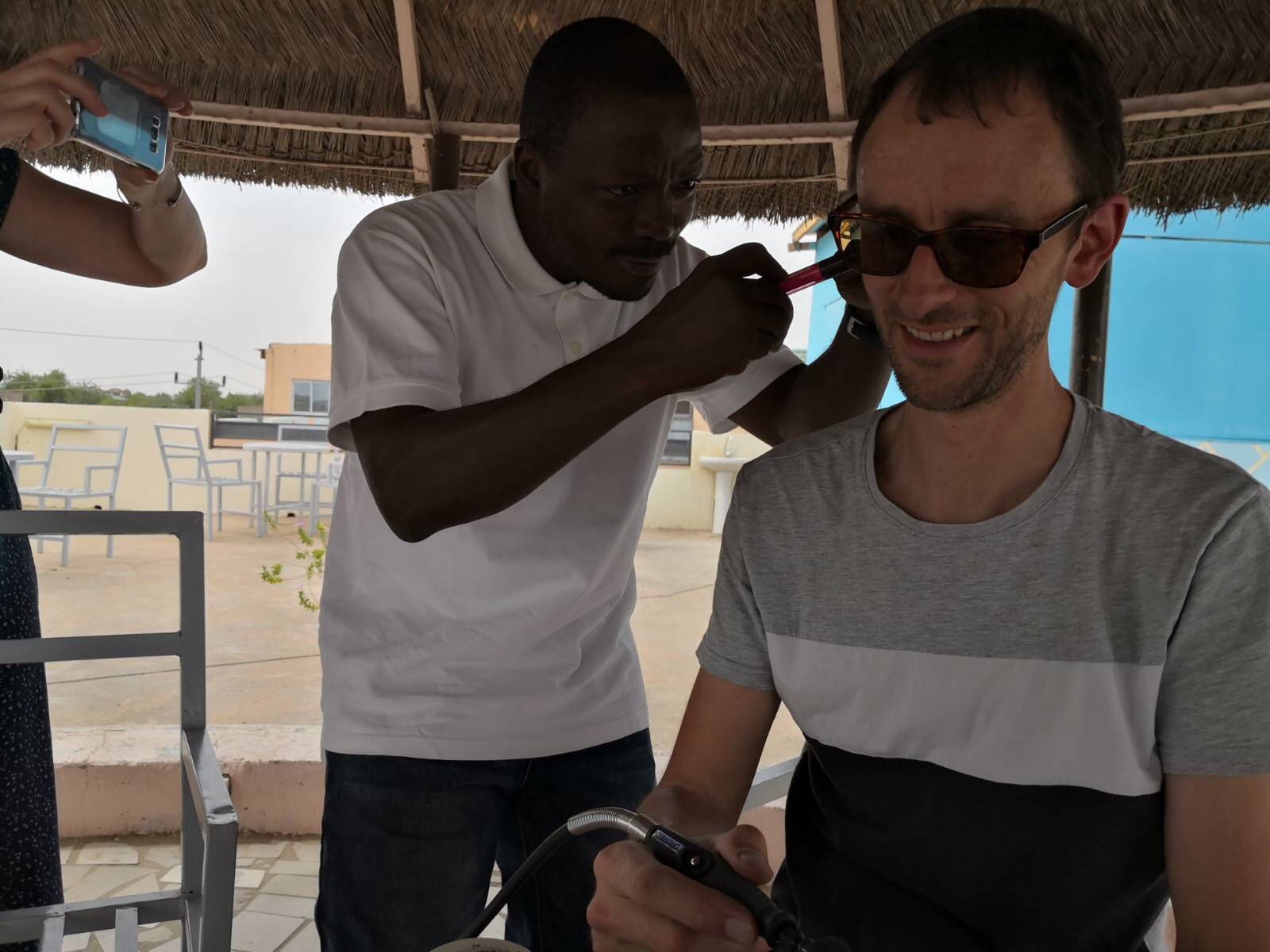 This immersive feature was produced by Pioneers Post, the leading global news platform for mission-driven businesses, social entrepreneurs and impact investors. We're also a social enterprise ourselves, with profits ploughed back to support our community of positive changemakers: you can support our work by subscribing, from just £4 per month (and further discounts for start-ups and students).
Get in touch if you'd like to work with us to tell your story.